Our Outdoor range has been created from a multitude of different types of materials. Each with unique qualities that make them especially suited for outdoor usage.
Materials range from various types of timber, different types of metals, plastics, fabrics and even stone and cement. Giving endless choices for a customers to choose from to select the right product that suits their requirements.
Outdoor Timber FYI's
All outdoor timbers (including Teak) will sustain some 'checking' (small splits running with the grain of the wood) from time to time and season to season (as timber expands and contracts with the changes in climate/temperature).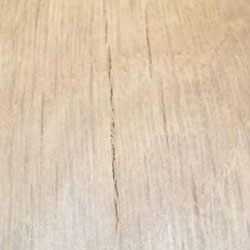 Example of checking
This is a normal characteristic of all wood exposed to outdoor climates, normally cosmetic and isn't considered a fault. This does not affect the structural integrity of the furniture. However, to prolong the normal life expectancy and durability, regular maintenance is highly recommended.
Some of our timber pieces have been crafted from recycled and reclaimed timbers, each with its own unique character which should be embraced.
Where we have used new timbers, we strive to ensure they come from sustainable sources, which have been harvested under strict government guidelines - where no timber can be exported without chain of custody approval. Some timbers used are also FSC certified. Which is a certification given by the Forest Stewardship Council (FSC) which guarantees to our customers that the FSC-labelled product they buy has come from a forest and supply chain that is managed responsibly.
General Outdoor Care
For everyday cleaning, wipe over with a damp cloth.
Clean and oil timber furniture regularly (ideally every month) to maintain the new appearance for longer. If left untreated and exposed to the elements all wooden furniture will naturally change to a grey colour
Remove any dirt and debris with a stiff brush
Avoid leaving products uncovered in direct sunlight for any extended periods of time, as direct sunlight may cause timbers to warp or split.
We recommend the use of Guardsman Outdoor Wood Protector which repels stains and protects against mildew.
Do not use a silicone based products on timber furniture, as it will cause a build-up of silicone on the product, which can discolour and dry out the timber
It is recommended that you tighten the screws on tables and benches periodically.
To give extra protection against hot cups, plates etc and accidental spillages, it is always best to protect the beauty of your table with place mats.
Care should be taken when watering plants on table tops. If overfilled and water is allowed to sit on the table, certain fertilisers from potting mix can react with protective finishes and permanently mark the product.
Furniture made with polyester, synthetic wickers and aluminium should be washed down regularly with warm soapy water and left to dry naturally in the sun.
We recommend treating powder coated metal surfaces (especially around joins and welds) with a coat of rust inhibitor such as Guardsman Weather Defence Metal Protector to increase the longevity of the product.
All outdoor furniture products will keep their new appearance longer if they are protected from the elements when not in use.